Corrosion Test Chambers
The right support for your corrosion tests – from top load chambers to front load chambers!
Ascott Analytical products will replace Weiss Technik SaltEvent SC, SC/KWT and SC/UKWT products in the future. Ascott specializes in the production of salt spray chambers and cyclic corrosion test chambers. With the extensive product portfolio of Ascott, Weiss Technik strengthens and expands its offering in the field of corrosion testing and enables us to provide our customers with all solutions in the field of corrosion.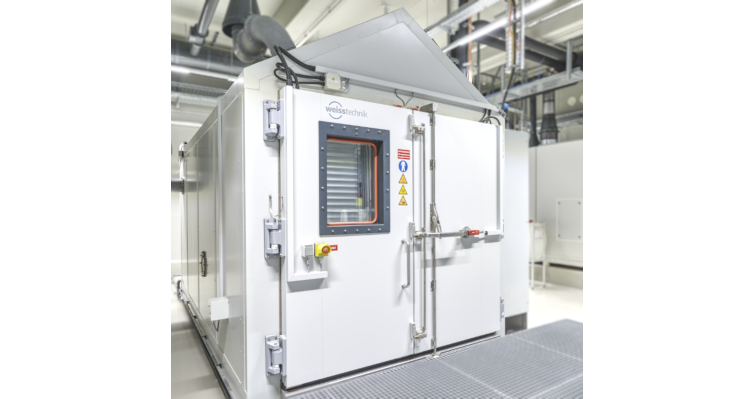 Perfectly processed. Easy to clean. Well thought out.
High humidity, salty air, seawater, and road salt – many small and large things in everyday life are exposed to corrosion. Corrosion resistance is thus an important quality and safety feature for many products. With our different variants of SaltEvent automated corrosion testers, you can investigate the effect of salt spray, condensed water, and normal climate – whether individually or in combination. Our testers are designed to be reproducible, certified, and time-lapsed. Also the standard models are versatile and leave nothing to be desired. For special requirements, they can be expanded with numerous extras. Precisely according to your needs.
In addition to the configurable standard equipment, we also offer modifications. We would be more than happy to advise you on this.
SC/UKWT-H test chambers – Large test chamber. Full view. Easily automated.
Regulated humidity and negative temperatures within a test combined with corrosion place high demands on the design of the test chamber. The corrosion test chambers of weisstechnik® are equipped with a refrigeration circuit. The components of this are located in the test chamber and are corrosion resistant. Depending on the area of application and the requirements of the test, a choice can be made between a test chamber made of glass-fiber-reinforced plastic (GRP) or high-quality stainless steel.
Reliable alternating corrosion tests thanks to compliance with the DIN 50 021/DIN EN ISO 9227 standard
Temperature range from −15 to 60°C; impact and scratch-resistant interior surfaces thanks to GRP test chamber
Temperature range can be extended to −40 to 80°C with stainless steel test chamber
Pitched roof with inclination of at least 30°
Corrosion-resistant, indirect temperature control
Psychrometric measuring system for temperature and humidity control
Heating elements for test chamber temperature control with overtemperature protection
Ventilation device for purging the test chamber with fresh air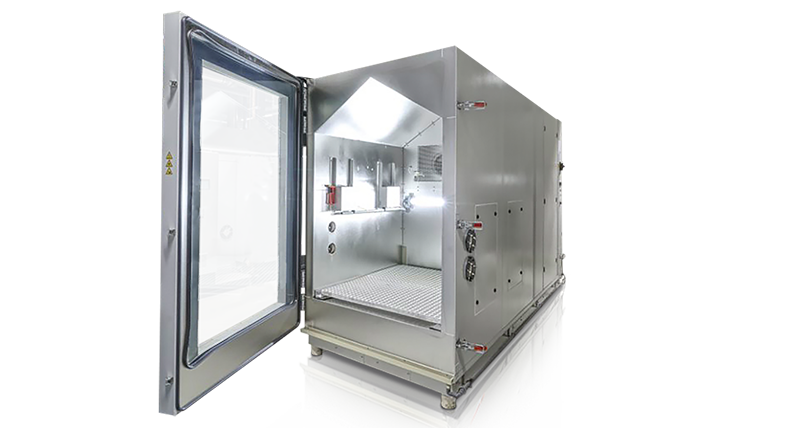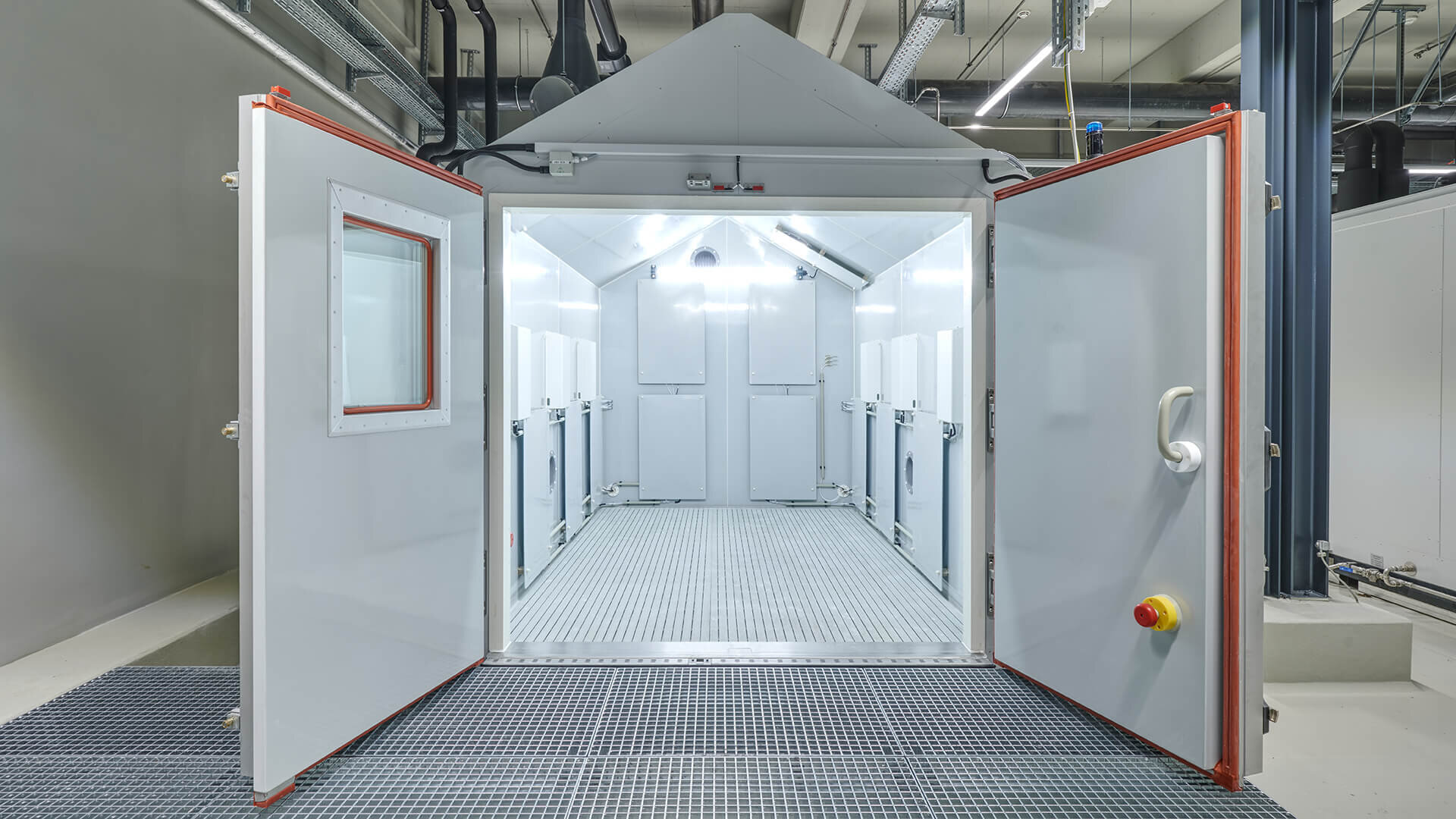 Customized solutions - expedient.economical.standard-compliant
For FEV Group GmbH in Saxony-Anhalt, Weiss Technik was able to develop several corrosion systems, including two 16m³ (test room) salt spray chambers, with different performance levels, for testing lithium-ion batteries (packs) - At changing temperatures, in a salty atmosphere.
This means that we develop the right solution for every task of our customers.
SC and SC/KWT test chamber – All sealed. Exactly measured. Reliably dosed.
Use the weisstechnik® SaltEvent SC corrosion testers to examine the effect of salt spray and condensation water. In salt spray testing, salt solution and moist compressed air are sprayed through a two-substance nozzle in the test chamber. With the weisstechnik® SaltEvent SC/KWT alternating corrosion testers, you can perform corrosion change tests according to VDA 621-415 with the basic device. No additional air conditioning is required for this. In addition, with the SC/KWT salt mist residues can be automatically sprayed from the test chamber. We also offer you the possibility of a climate extension to 40°C/93% r.H. for this variant.
Optimum spray mist distribution thanks to the precision two-substance nozzle
Excellent temperature constants thanks to double-shell construction with internal thermal insulation and heated compressed air humidifier with tracking control
Adjustable flow meter and dosing device for spray solution
The standard-compliant design of the test chamber and test hood prevents the spray solution droplets from falling onto the specimens.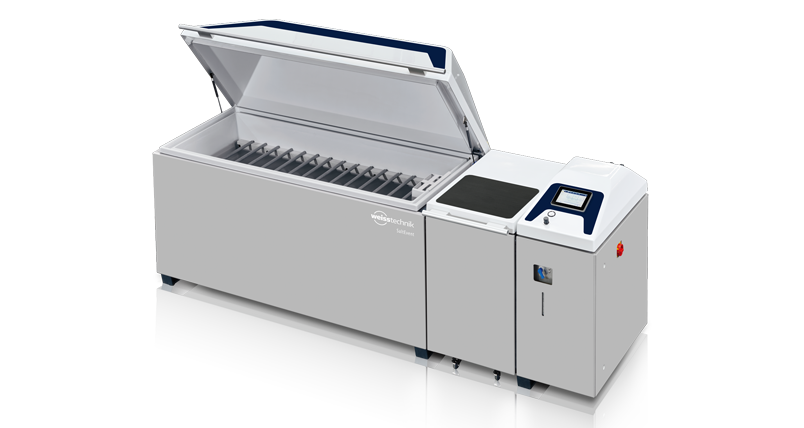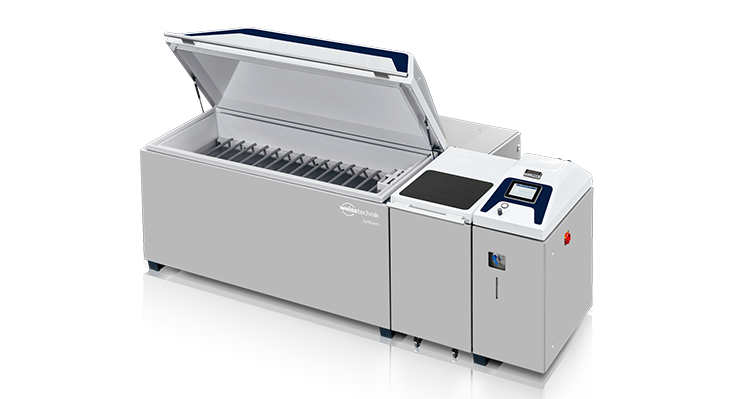 SC/UKWT test chambers – Regulated humidity. Negative temperatures. High consistency.
The SC/UKWT corrosion test chambers from weisstechnik® are equipped with a recirculating air unit that allows the relative humidity in the chamber to be regulated. Corrosion-resistant psychrometers for moisture measurement are installed for this purpose. With the weisstechnik® SaltEvent SC/UKWT automated alternating recirculating air corrosion testers, you can investigate the effect of salt spray, condensed water, and normal climate – whether individually or in combination. Thanks to the sophisticated design and high-quality workmanship, the testers have excellent temperature constants and thus ensure correct and reliable measurements.
In air-conditioning mode, the test chamber is conditioned by an air-conditioning unit in air recirculation mode.
The air conditioning unit is located in an additional machine part behind the test chamber module.
Humidity measurement by means of forced humidified psychrometric measuring system
Direct spraying of the salt solution
The walls of the test chamber can be cleaned automatically with a ring purge line.
Tests according to D17 2028/ECC1 are also possible with our alternating recirculating air testers.