Data Center
Efficient cooling of data centres and server rooms
Data Center
More and more computing power in less and less space and changing technological standards - new server generations require new cooling concepts for information and telecommunications technology (ICT). Weiss Technik offers a wide range of solutions that are precisely tailored to meet the specific requirements and which operate economically and safely even under extreme conditions.
---
Specific requirements
Two factors are crucial when it comes to air-conditioning data centres: operational reliability and economic efficiency. Reliable cooling is essential for the security of data and hardware, as overheating is one of the most common causes of server failures. In addition, it needs to be operated with the lowest possible energy and cost input in order to remain economically viable. However, since individual circumstances must be taken into account, there is no single optimal climate solution. Decisive criteria are, for example:
Size and layout of the data centre
Maximum heat load
Temperatures and temperature differences in the data centre
Requirements for the scalability of the solution
Availability claim and redundancy requirements
Environmental conditions and risks
---
Solutions
Data centres are currently cooled almost everywhere by air-circulating systems that absorb the heat in the server room and dissipate it via a cooling medium, e.g. water or refrigerant. Depending on the requirements and structural conditions, different devices are used:
Precision air conditioning units
Cooling wall system
Row-Based Cooling Units
---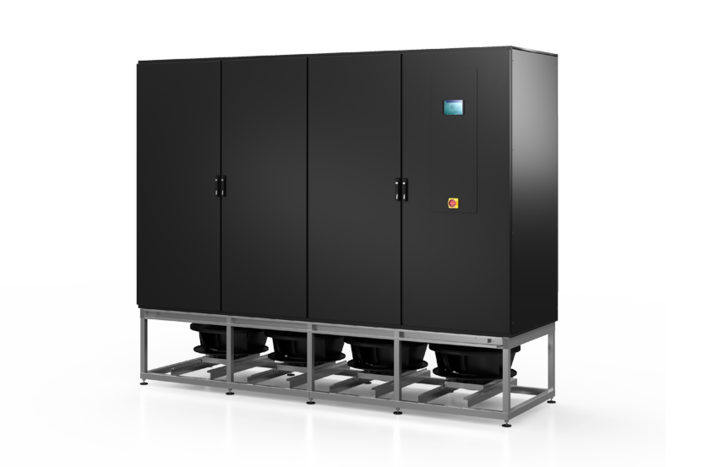 Precision air conditioning units
Precision air-conditioning units are specially designed to meet the requirements of data centres: they accurately control the supply air temperature and run continuously in an energy-efficient manner. If necessary, they can react to unforeseen temperature fluctuations thanks to intelligent control. Depending on the structural conditions, there are different types of units:
In chilled water (CW) precision air conditioners, the chilled water is provided by an external chiller or a central refrigeration system and fed into the heat exchanger.
With direct free cooling (FC), cold outside air is fed directly into the data centre and the heat is dissipated via the exhaust air.
With indirect free cooling (iFC), a cooling medium is routed from an outdoor unit to the free-cooling heat exchanger, where the hot air emitted by the servers is cooled.
---
Cooling wall systems
Our unique cooling wall system Vindur CoolW@ll is a real innovation in the field of IT air conditioning. The partition wall between the IT room and the service corridor is used for cooling through the use of large-area, water-flow heat exchanger modules. In doing so, you easily gain more space in the data centre and can completely do without recirculation air conditioning units.
The heat exchanger filter modules in the wall and the underfloor fans in the raised floor provide the most efficient chilled water cooled room climate system for data centres. Thanks to the larger heat exchanger surfaces and the optimal airflow, very high heat loads can be dissipated extremely efficiently. There are no energy losses due to turbulence or constriction and internal pressure losses are greatly reduced.
The advantages at a glance:
More cooling capacity with more energy efficiency
More space in the server room
Lower investment costs
Easy accessibility
Extremely easy to maintain
---
Row-Based Cooling Units
Row-based cooling units are best suited for small and medium ICT rooms that do not have raised floors or partitioned infrastructure areas. They are installed in a space-saving manner between two server racks directly in the server room and emit cold air to the front. The air is drawn in from the surrounding racks, where it absorbs the waste heat from the servers. The resulting warm air is absorbed again by the cooling unit on the rear side of the rack row. This saves costly air routing in separate ducts or in raised floors.
The advantages at a glance:
Maximum cooling capacity within a small footprint
High energy efficiency due to short air flow distances
Absorbs heat without loss where it is generated
Do you have any questions or would you like consultation?
Do you have any questions or would you like consultation?
---
---