Customised dry room systems
Dry room systems tailored to your requirements, designed to meet your testing needs and any battery cell characteristics.
Extensive experience in chamber construction since 1978
With over 40 years of experience constructing insulation cells and test chambers, we can manufacture custom solutions in every shape and size that are perfectly adapted to your needs and on-site conditions. All of our large drive-in environmental chambers use dehumidified outside air (DP < -40°C). Designed to suit individual requirements, almost any technically feasible task can be performed using the appropriate chamber.
Regulation, Control and Traceability
Reliable control as standard - Depending on your requirements, our dehumidification systems are autonomously controlled and monitored by SIMPAC®, the digital measurement and control system. Process and sensor data are transmitted to higher-level controllers or control centres via a data bus. DAQ also allows us to track when and where each cell was manufactured. Process control and monitoring can also be controlled by a Siemens Simatic system for even easier integration into existing customer systems.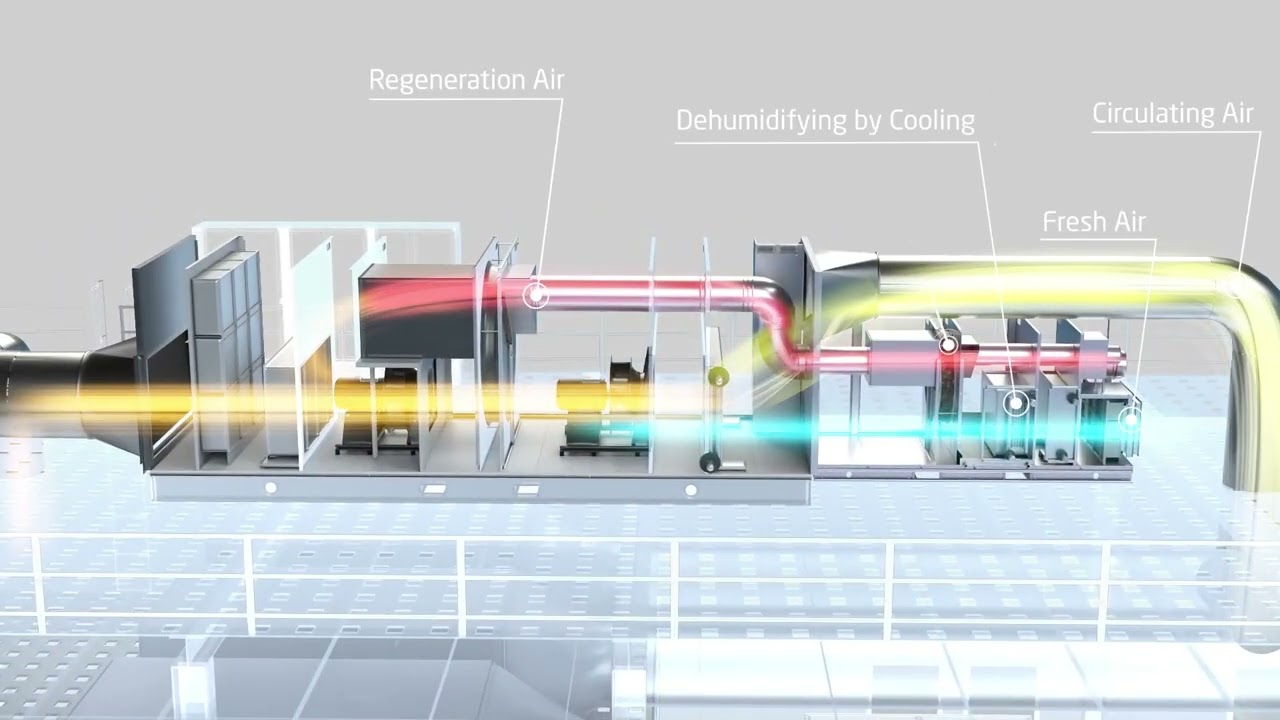 Interior
Engineered to perform - The design of each system is based on our extensive ventilation engineering expertise. By continually optimising the performance of standard and special components, we are able to implement future-oriented improvements such as energy efficiency. This will continue to be developed to enable the dry-room system to contribute significantly to producing a "green battery".
Process reliability & easy maintenance
Minimising the intake of humid outdoor air significantly reduces energy requirements
Recirculating air cooling units with filters inside the dry room are accessible via steel scaffolding with catwalks
Easy filter change without the ingress of dust is possible while the unit is running
Customised filter classes can be integrated
Air ducts extensively integrated into the dry room
Active leakage minimisation even over the long term
Ducts can be opened without moisture ingress
The dry room ceiling can be walked on
Semi-redundancy of the textile hoses
Redundant fresh air filter
Maintenance times are individually adapted to the dust load
High system availability through fast service instead of high redundancies
Maximum energy efficiency
Dry room systems are extremely demanding in terms of energy. Our drying rooms are designed for maximum energy efficiency - this noticeably improves the well-to-wheel balance of your manufacturing process and provides a measurable advantage over conventional solutions from other suppliers.
Targeted air conditioning - By integrating engineering measures for pre- and post-conditioning of supply air flows, our dehumidification system can be designed and implemented as a complete climate control centre.
Cost-effective use of standard components - We also prefer to use standard functional components such as fans, heat exchangers and sensors in our custom systems. This allows you to conveniently plan costs and expenses for project planning, service and maintenance.
Dry rooms simply better configured
Online configurator from Weiss Technik speeds up and optimises planning.
It is usually a long way from the idea to the finished dry room plan. Even minor changes to the dew point or the number of people in the room can lead to time-consuming rescheduling and have a considerable effect on the budget. With the new online configurator for dry rooms, Weiss Technik has shortened and improved this planning process. The configurator is a practical support for on-site consultation and allows an initial dry room layout to be created in real time.